Installation and training fee:
$399

Free!
Monthly Subscription Fee:
$299 / mo.
Monthly Subscription Fee for 5+ Locations:
Call
*No annual contract required!
Please call the Patterson Technology Center at 1-800-294-8504 or click here to sign up.
RevenueWell is setup and supported by the Patterson Technology Center. Please call 1-877-816-2871 if you have any questions.
Requirements: 32-bit or 64-bit versions of: Windows XP SP3, Windows Vista, Windows 7, Windows Server 2003, Windows Server 2008. Mozilla Firefox V7 or higher, Internet Explorer V8 or higher. 2 GB of RAM and 1 GB of available disk space. Pentium 4 or better.
RevenueWell is a suite of online tools that helps you attract new patients, promote your services to existing ones and increase patient satisfaction – with little effort from you. It uses patient and account information from your practice management system to completely automate routine patient communication activities – while giving you the tools you need to grow your practice day after day. Want to learn more? Visit patterson.revenuewell.com today!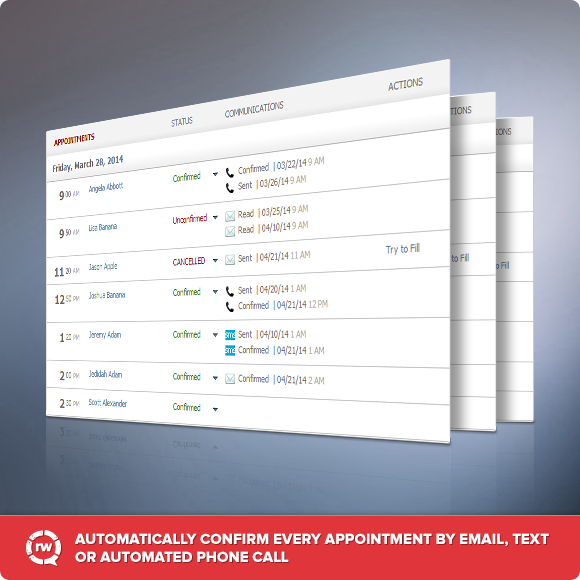 1 of 11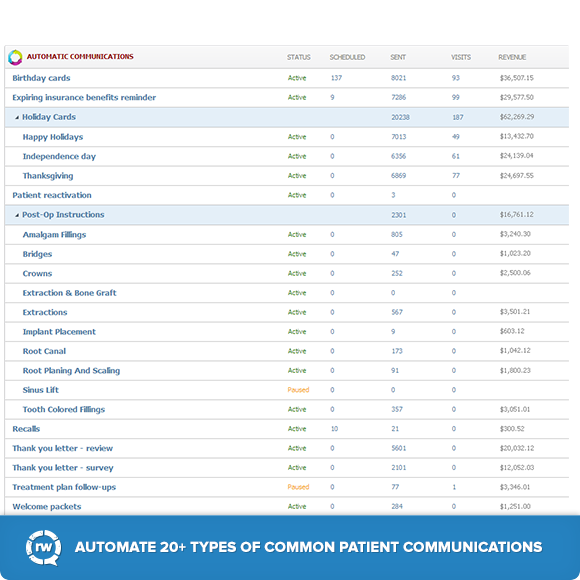 2 of 11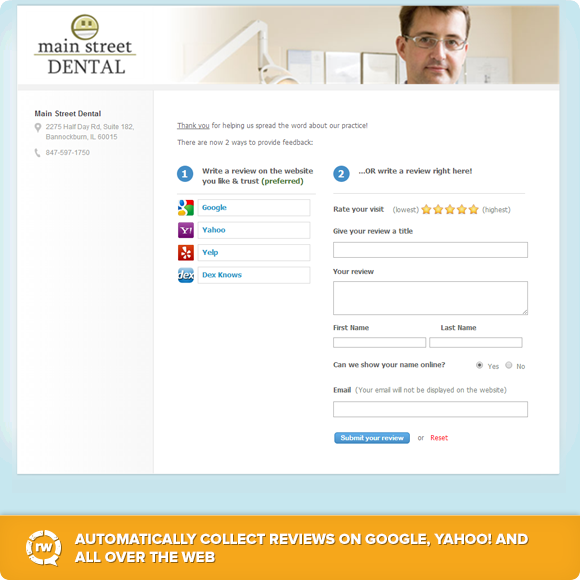 3 of 11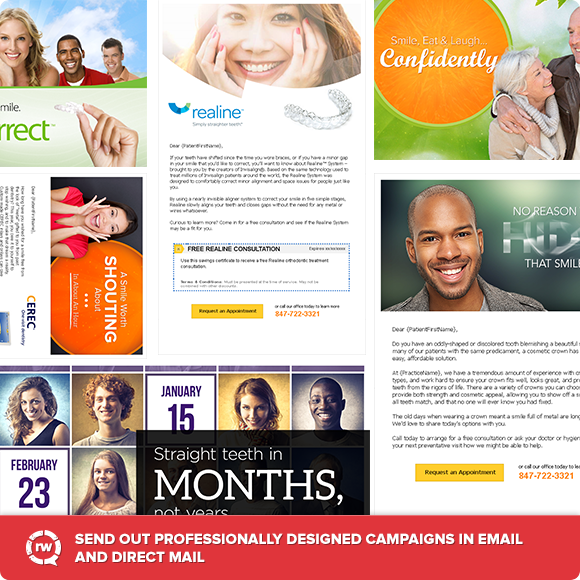 4 of 11
5 of 11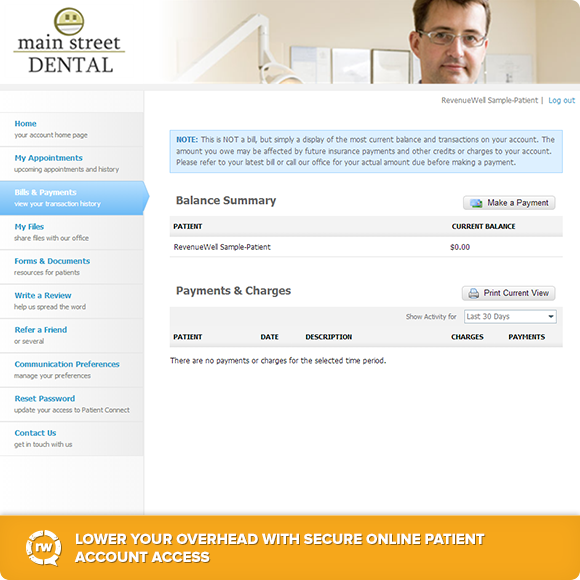 6 of 11
7 of 11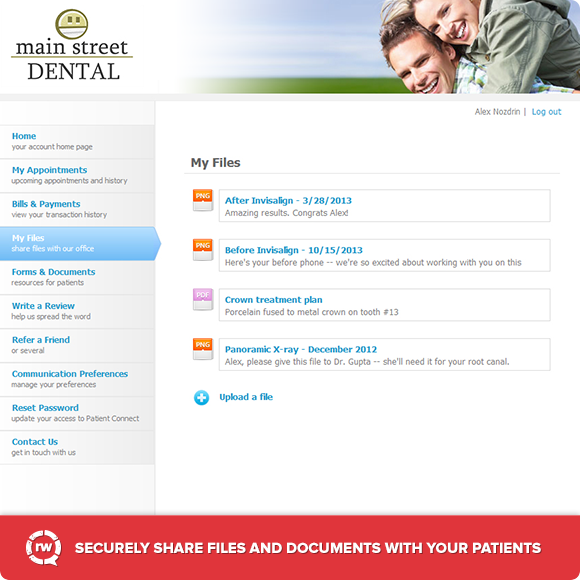 8 of 11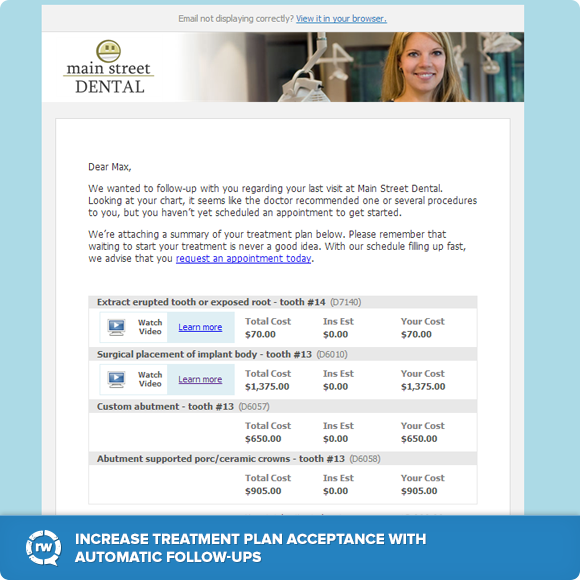 9 of 11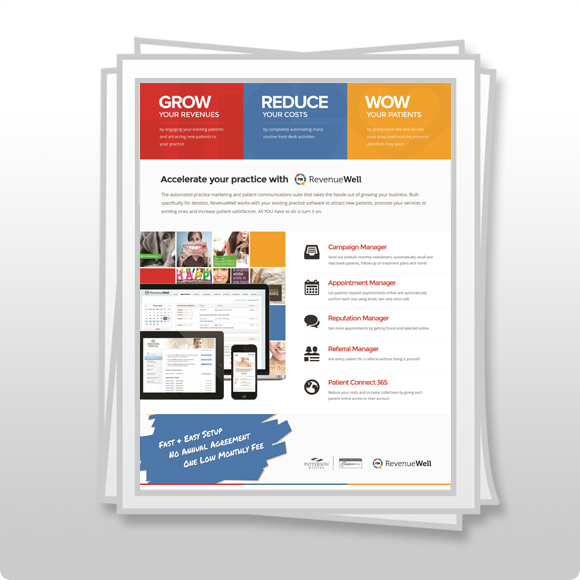 10 of 11
11 of 11
RevenueWell takes up to 5 attempts to confirm each appointment. You decide when and how each of these communications goes out.
Stop pulling patient reports, printing postcards and stuffing envelopes! RevenueWell automates most of your common patient communications for both email and direct mail.
Each patient who visits your practice is asked to submit an online review. These can go directly to search engines of your choice or to your practice microsite!
Promote your services with RevenueWell's library of professionally designed, fully configurable marketing campaigns that you can send out as emails or postcards!
Let your patients request appointments online 24/7! They'll be impressed with the convenience, and you'll be impressed with how many new appointments you get.
Eliminate unnecessary calls to your office by giving your patients 24x7 secure access to their appointment, financial and insurance information.
Completely automate your recalls and patient reactivation by setting up schedules of regular email, SMS, letter and postcard communications that get patients back into your office!
Need to send your patient a file or two, or let them share their own? RevenueWell's Patient Portal is a HIPPAA-compliant way to get that done!
RevenueWell monitors your practice software for outstanding treatment plans and automatically follows-up with your patients using professional treatment presentation letters and patient education videos.
To view the RevenueWell Brochure click here.
RevenueWell Customer Testimonials Video
1 of 11

2 of 11

3 of 11

4 of 11

5 of 11

6 of 11

7 of 11

8 of 11

9 of 11

10 of 11

11 of 11