One-Time Setup Fee:
$349 ($229 for Patterson Advantage® Customers)
Monthly Recurring Subscription Fee:
$44/Month
Sales & Application Support
For help signing up or for technical assistance, please call the Patterson Technology Center at 1-800-294-8504 or click here to sign up.
Requirements: Internet connection required to use. It's suggested that you use one of Patterson Dental's supported browsers and follow Patterson's bandwidth requirements to use the AutoSDS product. See them here.
Patterson Dental has partnered with Global Safety Management (GSM) to bring you AutoSDS, a new online database of Safety Data Sheets specific to your practice. Together, we'll help you meet OSHA's compliance requirements of TODAY!

How Does AutoSDS Work?
Your AutoSDS online database comes preloaded with SDSs based on your Patterson Dental product purchases over the previous 5 years. As part of your base subscription, you gain access to the AutoSDS Master Library so that any purchases made outside of Patterson Dental that require SDSs can be easily added to your online database.

Why Care About SDS?
It's about safety! SDSs contain important first aid information and list chemicals that employees and patients might be allergic to. OSHA fines are another reason to care about SDS. In 2016, Hazard Communication violations became the second most common OSHA citation. Fines can be as high as $7,000 per day per incident and up to $70,000 for repeated and willful violations.Remember, employees can file anonymous complaints about employer compliance.
Generating Chemical Lists
As part of the AutoSDS solution your practice will be able to instantaneously generate a list of all the chemicals identified in the SDSs in your AutoSDS library – meeting OSHA requirements.

1 of 5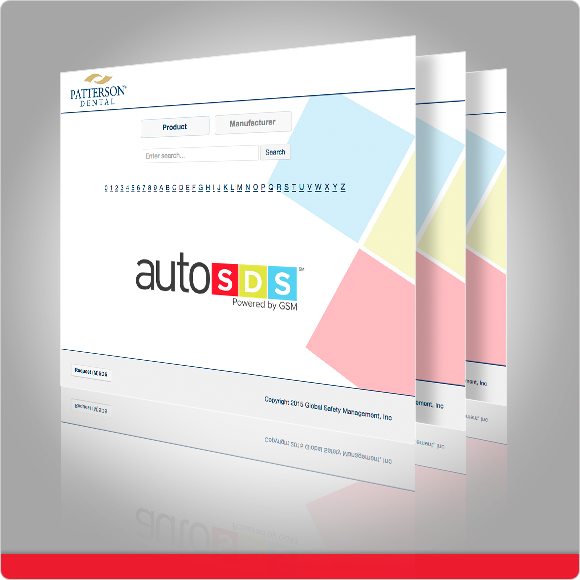 2 of 5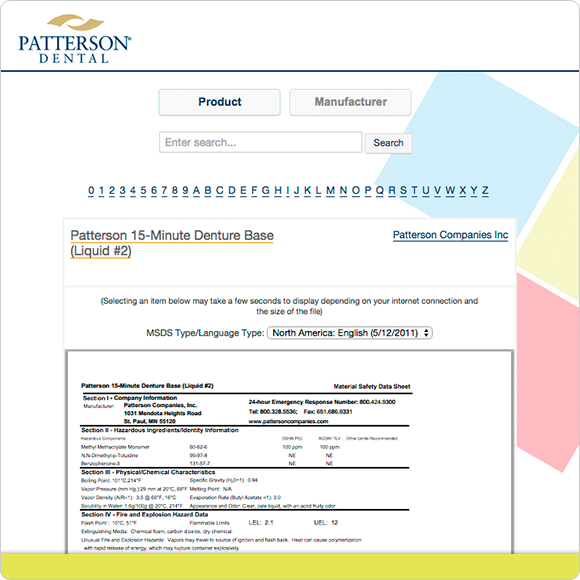 3 of 5
4 of 5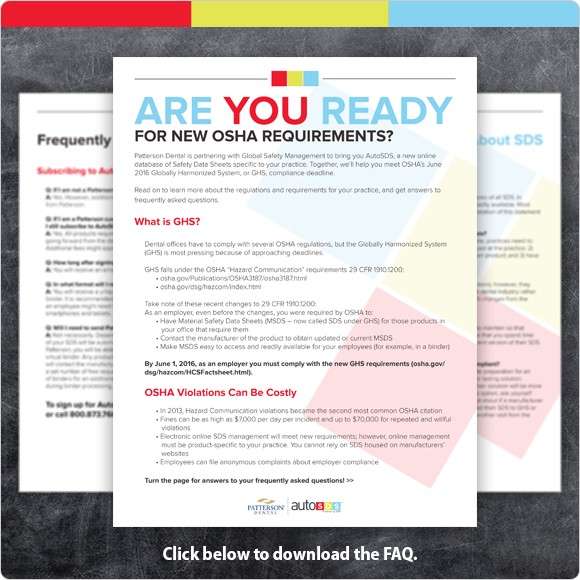 5 of 5
Meet today's OSHA requirements and be prepared for the ever-changing compliance regulations.
Ditch your bulky binders for AutoSDS's organized and easy-to-use interface, all delivered and accessible via one unique URL for your practice.
Quickly find, print, save and read SDSs for all products in your practice.
Products purchased from Patterson are automatically loaded to your library, but you can still send us your binders for processing or request that additional products be added.
Learn more about why AutoSDS is the best SDS compliance solution available.
1 of 5

2 of 5

3 of 5

4 of 5

5 of 5