Patterson® 0.12% Chlorhexidine Gluconate Oral Rinse – Light Mint, 16 oz Bottle - Patterson Dental Supply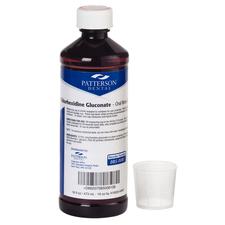 Patterson® 0.12% Chlorhexidine Gluconate Oral Rinse – Light Mint, 16 oz Bottle
Chlorhexidine (CHX) Gluconate 0.12% oral rinse is antimicrobial and aids in the reduction of tissue inflammation, bleeding and plaque accumulation. It is commonly used as a home care solution for gingivitis, periodontitis, oral irrigation and post-operative healing.
Light mint flavor
Made in the USA
Limited time offers available!
Purchase items with these icon(s)
to qualify for offer!
To view offer details, see product with promotional icons below
Customers who bought this also bought