XCEED™ Nitrile Examination Gloves - Powder Free, Latex Free, Blue, 250/Box - Microflex Medical Corp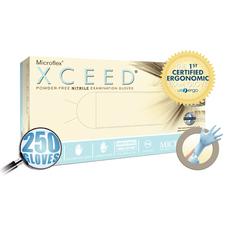 XCEED™ Nitrile Examination Gloves - Powder Free, Latex Free, Blue, 250/Box
XCEED® nitrile exam gloves are made with an advanced proprietary nitrile formulation – Avantex™ – to reduce muscle effort associated with hand fatigue.
1st certified ergonomic examination glove
Up to 60% stronger than leading nitrile brands and up to 90% stronger than leading latex brands
Setting the standard with pinhole rates that are nearly 75% below the already stringent level set by the FDA
Material: Nitrile (latex free)
Type: Nonsterile
Color: Blue
Shape: Ambidextrous
Cuff: Beaded
Glove Exterior: Textured fingertips
Glove Interior: Powder free, chlorinated
Limited time offers available!
Purchase items with these icon(s)
to qualify for offer!
To view offer details, see product with promotional icons below
Customers who bought this also bought