Activa™ BioACTIVE Restorative Refills - Pulpdent Corp Of America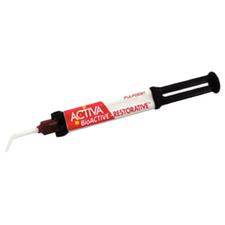 Activa™ BioACTIVE Restorative Refills
ACTIVA BioACTIVE-RESTORATIVE is a highly esthetic, bioactive composite that delivers all the advantages of glass ionomers in a strong, resilient, resin matrix that will not chip or crumble. It chemically bonds to teeth, seals against bacterial microleakage, releases more fluoride and is more bioactive than glass ionomers, and is more durable and fracture resistant than composites.
Natural esthetics, highly polishable
Tough, resilient, fracture and wear resistant, absorbs shock
Releases and recharges calcium, phosphate and fluoride
Chemically bonds and seals against bacterial microleakage
No sensitivity
Moisture tolerant for a simplified technique
Limited time offers available!
Purchase items with these icon(s)
to qualify for offer!
To view offer details, see product with promotional icons below
Customers who bought this also bought