Hygenic® Hyflex® Stainless Steel X-File® - Starter Kit, 25 mm - Starter Kit, 25 mm - Coltene/Whaledent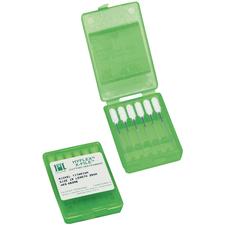 Hygenic® Hyflex® Stainless Steel X-File® - Starter Kit, 25 mm - Starter Kit, 25 mm
Hygenic® Stainless Steel Hyflex X-Files have a unique cross-section design that resembles a double-fluted Hedström file, to maximize cutting efficiency. Cutting is generally done with a straight cutting stroke upon withdrawal.
Exceptional flexibility in the apical 1/3 protects against ledging, zipping and strip perforation
No need to pre-curve in sizes 15 and larger as they follow the curvature of the canal
Double-flute design
Starter Kit includes: 1 package (6 files) of each size: 15, 20, 25, 30, 35, 40 and 1 package of assorted sizes 15-40
Limited time offers available!
Purchase items with these icon(s)
to qualify for offer!
To view offer details, see product with promotional icons below
Customers who bought this also bought