Porcelain Polishing Discs Kit #2668 - Meisinger USA, LLC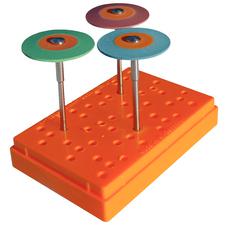 Porcelain Polishing Discs Kit #2668
Porcelain Polishing Discs Kit #2668 is made up of diamond impregnated porcelain polishers in "knife edge." Color-coded like your standard diamonds. Our green/orange polishers are used for adjusting while the blue/orange pre-polish and the pink/orange returns the surface to its desired "wet" glazed appearance without the need of pastes or re-firing. The instruments are HP only.
Limited time offers available!
Purchase items with these icon(s)
to qualify for offer!
To view offer details, see product with promotional icons below
Customers who bought this also bought