Quick-Stat™ Free - Vista Dental Products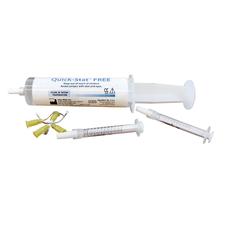 Quick-Stat™ Free
Clear Hemostatic Agent 25% Aluminum Chloride Solution
Quick-Stat FREE is a uniquely nonstaining viscous and colorless 25% aluminum chloride hemostatic gel. It eliminates bleeding without leaving trace residue or staining hard or soft tissue. Recommended for impressions, restorations, crowns and bridge procedures.
Colorless, nonstaining viscous gel
With Stat-Flo™ padded applicator tip
Sufactant lowers surface tension for better wound penetration
Limited time offers available!
Purchase items with these icon(s)
to qualify for offer!
To view offer details, see product with promotional icons below
Customers who bought this also bought