Metal Primer II - GC America, Inc.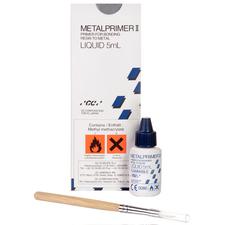 Metal Primer II
One Step Resin to Metal Bonding Agent
Metal Primer II is used for bonding of acrylic and composite resins to all types of metal. Makes resin-to-metal bonding simple. With its specially developed adhesion-promoting (MEPS Thiophosphoric Methacrylate) molecular structure, Metal Primer II penetrates the mechanical and chemical resin bond.
Customers who bought this also bought